Udon With Butter Straw Mushrooms Oyster Wine Sauce
Catnip46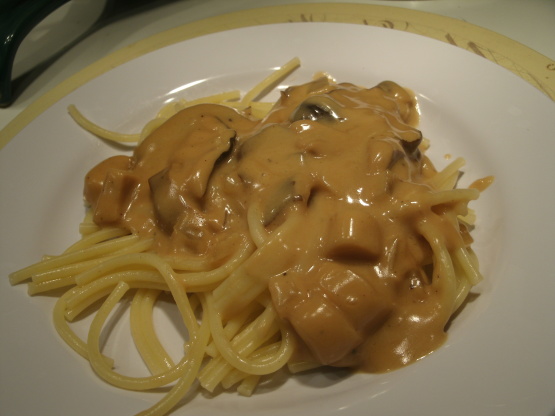 Japanese noodle serve with mushroom cream sauce

I bought a can of straw mushrooms only because I never heard of them before and now didn't know what to do with them. I found your recipe and thought why not try it. WOW! YUM! Even though I had the dried chives I did not use them thinking that fresh would be better but I will have to wait till summer to try that. I didn't have any drinking rice wine so I used a white cooking wine and also used spaghetti instead of udon noodles. With 1038 calories per serving I thought this had better taste good! I was not disappointed. Left overs were even better after all the ingredients had a chance to meld together.I was even eating some of the left overs cold, still delicious.
In a hot wok add oil and place on a hot heat stove top.
Add onion and stir fry until golden brown.
Season the mixture with salt and garlic and chives and combine mixture.
Add in the straw mushroom and heavy cream and bring to a boil.
Reduce to a simmer for 10 minutes, add in the wine and oyster sauce and blend well.
Add in the butter and udon and combine and serve hot.