3 Reviews
This is a strange big Christmas noodle stirfry with maple syrup. It is barely edible, undefinable and a waste of a lot of good ingredients.

Tasty dish! It is beautiful, unique and creative. We omitted the maple syrup (personal preference), added ginger and stir fried the vegetables to increase flavor. I think some lime squeezed over this would be good too. Served 3.

This has it all -- flavor, texture, and looks! This is a one-dish wonder! Thanks, AJO! Made for Vegetarian Recipe Swap.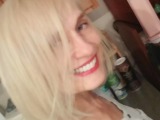 Udon Noodles With Walnuts and Pomegranates