Uber-Braten - Kielbasa & Sauerkraut Casserole
lazyme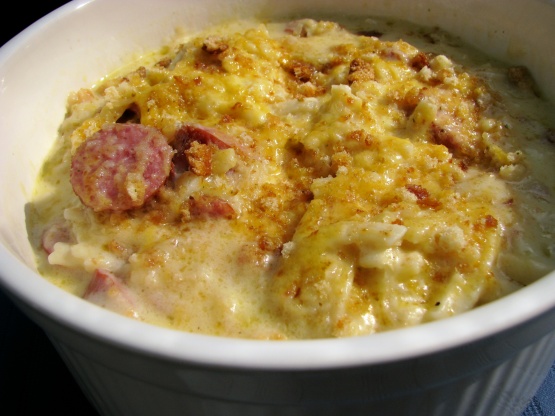 This was named by my two kids as it sounded to them like "yummy German casserole" - I have no idea what it means - but it is amazing! I'm posting it here because I keep loosing the recipe - easy-peezy and so good - real comfort food!

I have made this twice now, but modifying the recipe somewhat. The 1st time, I used about 8 oz of wide noodles, along with 1-1/2 cups of sauerkraut (but used bavarian sauerkraut, as that's what I had on hand), plus I added 1 tsp each of garlic powder and onion powder to the flour and other spices. The 2nd time, I used about 7 oz of wide noodles, along with the 2 cups of sauerkraut, plus the tsp each of the garlic powder and onion powder to the flour and other spices. Fixed both ways was good, but while I preferred the less sauerkraut with the 8 oz of noodles, my hubby preferred this dish with the 2 cups of kraut with the 7 oz of noodles. Also... I prepared the sauce in a 3-quart saucepan, and adding the entire cup of cheese to it, then only stirred in the cubed sausage and kraut, and then added it to a greased casserole baking dish, then stirred in the cooked noodles. Topped the casserole with a mixture of 4 tablespoons of plain dried bread crumbs mixed with 2 tablespoons of melted butter, and baked it in the oven for 25 minutes. This made 6 delicious servings! If you love kraut, you'll love this main dish! One more thing... instead of using Kielbasa, I used ECKRICH Skinless Smoked Sausage (a 14 oz. pkg.). Heidi Renee, this is a great recipe. I could eat this at least once a month. Also wish I could rate it with more than 5 stars.
Cook egg noodles as per directions on package. I really like the Pennsylvania Dutch Kluski noodles as they add great texture to this dish, but I'm sure any thick egg noodle will work. Set aside.
Slice or cube kielbasa - we cube as we like it spread throughout the casserole more thoroughly.
Heat butter in dutch oven until melted, stir in flour and seasonings. When mixture is well combined add milk. Bring to a boil for one minute, stirring constantly.
Add 3/4 cup of cheese, stir until melted.
When sauce is ready stir in sliced kielbasa, drained sauerkraut and pre-cooked egg noodles.
Pour into a 3 quart casserole.
Mix remaining cheese with bread crumbs and sprinkle over casserole.
Bake at 375° for 20 minutes or until heated through.