"u" Wing It Pork Loin Chops
Derf2440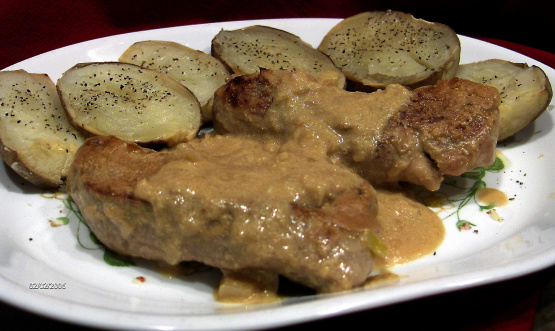 As the name indicates, fix a sauce from ingredients in your fridge. You can make a luscious gravy from your fridge. Prepare ahead of time and cook when needed. A 1 inch chop is like a "mini" roast you can carve when cooked. Served with asparagus and a baked potato and dinner is done.

Used the cooking directions, but totally "winged it". Loin chops turned out tender. The sauce was made from a savory blue cheese dressing and wasn't ideal, but I still liked it.
Brown chops in oil in a frying pan.
Remove to casserole dish.
Saute onion and garlic over high heat for 2 minutes.
Add sour cream, horseradish, mustard, dressing and wine.
Heat for 3 minutes.
Pour over chops.
Bake in preheated 350°F oven for 1 hour or until done.