Peter J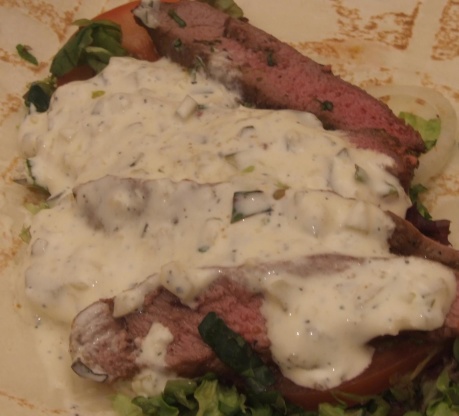 This is a fabulous accompaniment to any grilled meats...especially souvlaki pork or chicken and even lamb. It's also yummy as a dip for veggies. Heres a tip: grill some greek-style marinated pork or chicken, slather tzatziki sauce on a fresh pita bread, add meat, then top off with thinly sliced onion and some sliced tomato-a little more sauce on top and voila...Souvlaki Pita! *You can use low-fat sour cream or plain yogurt.

Top Review by katew
I served this for lunch with sourdough bread and DD said "this tastes real !!!!". High praise indeed. I used fresh mint and low fat sour cream and diced the cucumber .This makes a generous amount and I am looking forward to taking it over to a friends house tonight to have with a drink before dinner. Made for Holiday Tag.
Grate cucumber and let sit in a colander to drain water for a 1/2 hour; squeeze excess and add to sour cream.
Add remaining ingredients and let flavours meld for a couple of hours in the refrigerator.