Tzatziki Cucumber Dipping Sauce
Lalaloula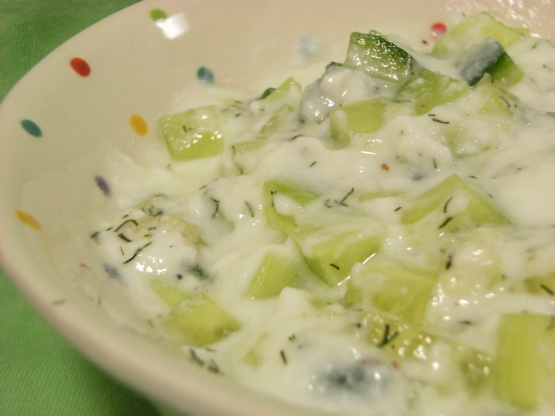 Greek sauce/dip/salad dressing. Serve with vegies,Pitas,or with spicy dishes.

I really liked this recipe. Never thought about putting mint into tzatziki and will admit I was skeptical but now I will ALWAYS use mint. I also didn't use Greek yogurt just a thick balkan and I also didn't bother draining it through the cheese cloth. With regard to the cucumber I just grated it and squeezed it dry as best i could with my hands. Maybe it was runnier than authentic tzatziki but nobody seemed to mind and definitely a lot less work. So yummy!
Line a sieve with a double thickness of dampened cheesecloth.
Spoon in yogurt and set the sieve over a bowl.
Refrigerate for two to three hours or until yogurt is about half its volume, nicely thick and creamy.
Shred or cut cucumber into julienne strips.
Place in a colander in sink or over a bowl, sprinkle generously with salt, mix well and let drain for at least 30 minutes to an hour.
Rinse and gently pat dry.
In a mortor and pestal muddle the garlic into a bit salt.
Add to the thickened yogurt, cucumber, lemon juice, olive oil, and if desired, the pepper and mint.
Mix well.
Serve or refrigerate for a day or two so flavors mingle.
Stir again before serving and sprinkle with additional minced mint leaves if desired.