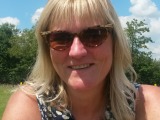 We go to Greece as often as possible and I love Tzatziki, I more or less live on it whilst there. This is the most authentic recipe that I've ever come across, unfortunately in the UK people seem to think that you put mint in it but I've never had it that way whilst in Greece. This is taken directly from a cookbook I picked up whilst in Crete, its by Margaret Phoca called The Best Greek Dishes. The only alteration I make is I tend to reduce the oil to 2 or 3 tbsp just to make it more healthy and I use Greek Extra Virgin Olive Oil. Cooking time is chilling time.
Directions
Add salt, oil, vinegar and minced garlic to the yoghurt and mix well.
Add grated and drained cucumber and mix well.
Chill for a couple of hours before serving.
Reviews
Most Helpful
It was my first time doing tzatziki and it won't be my last time :) It's a success. Great recipe. I used 4 tbs of olive oil. I put salt on the shredded cucumbers to help remove the water. The tzatziki has a great thick texture. The taste is great. Thanks Lou van :) Made for Name that ingredient tag game
The best tzatziki recipe I've seen out there. I use about 1/3 the olive oil, but otherwise this is the most authentic, simplest, best recipe I've found, and I've tried several recipes on the internet.

Very nice! I've always made Tzatziki in the past using lemon juice instead instead of vinegar but preferred it this way.