Ty's Microwave Peanut Brittle
Tona C.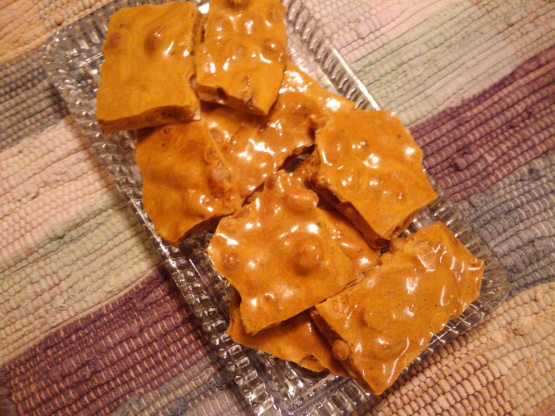 This is great tasting peanut brittle that is easy to prepare in the microwave. My brother makes dozens of batches during the holidays to give to family and friends. From the kitchen of Ty Thornburg, Fairview TN.
Mix the first 4 ingredients in a microwave dish, I use a deep Corning casserole about 9"X9"X5". Microwave on high 2 minutes then stir. Microwave another 2 minutes and stir again. Microwave for 4 more minutes.
Add 1 tsp butter and 1 tsp vanilla, stir and microwave another 1.5 minutes.
Remove from microwave, should be boiling good by now and add 1 tsp baking soda, stir and then spread on greased cookie sheet to cool. Don't worry if it doesn't reach the edges and corners of the cookie sheet -- just try to spread it out to about 1/8" thickness.
Break into serving pieces after the candy cools thoroughly.