Typically Tropical Mango Chicken
Linky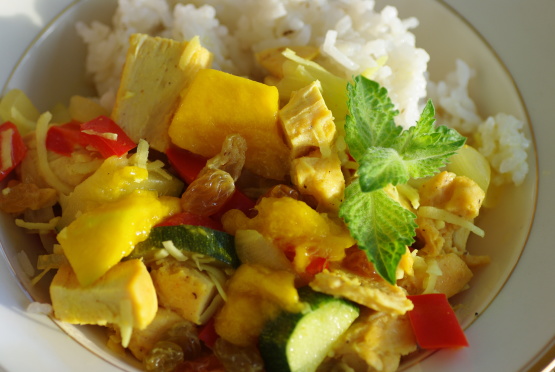 A dish I created for the RSC #8. It has it all, and you just need to serve it with rice and fried plantains. I made it several times before posting it and came to the conclusion that if I replaced the scotch bonnet with a green or red chili it is still a very good dish but it loses some of the taste sensation. I realize that it is sometimes difficult to obtain certain ingredients and that the heat of a scotch bonnet might not be to your taste, so please feel free to substitute if availability is a problem. Note that the raisins need to be soaked for several hours and this is not included in the prep time.
Soak the raisins in the rum for a minimum of 4 hours or overnight.
Mix the coconut with the milk, set aside.
In a large skillet, heat 1 tablespoon of the oil and brown the chicken, remove from the pan.
Heat the other tablespoon of oil, add to the pan: the onion, butternut squash, garlic, scotch bonnet and some salt and pepper, fry for approx 5 minutes on medium heat.
Now add the ginger and the curry powder, fry for another 5 minutes whilst stirring.
Add the sweet bell pepper strips, coconut/milk mixture and chicken stock and return the chicken cubes to the skillet.
Bring to the boil and simmer for 15 minutes.
Then add the soaked raisins and the mango cubes.
Heat through, add the lime juice and taste to check if you want to add more.
Serve with rice and fried slices of plantain.