Typical Dutch Breakfast / Vlokken, Kwinkslag En Hagel
flower7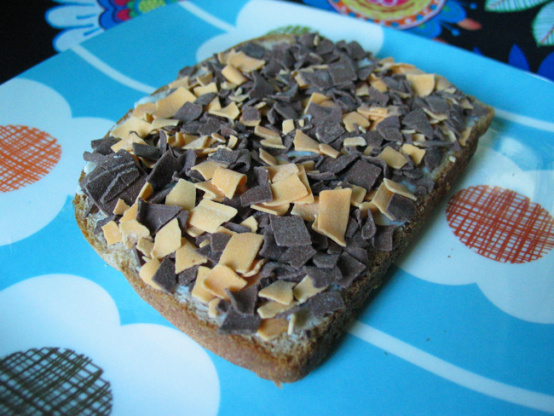 When Dutch young people between the ages of 2 and 99 get up in the morning, this is often the breakfast of choice. It's very very traditional in the Netherlands and here we have Vlokken and Hagelslag in many variations of colours, textures and flavours. What is it, you might ask? well the most basic one looks like the little chocolate bits used in cake decoration LOL, but here it's served up on bread (NEVER toast) for breakfast. If you are really Dutch and/or really brave you eat it as an open sandwich, to the untrained in the art of Hagelslag this can result in more of the chocolate bits on the floor than in your mouth, so beginners might perfer to add an extra slice of bread on the top to keep everything in a little better. Use margarine or slightly softened butter on the bread to help keep everything in place too. For the "quantity" of hagel I have been conservative but for Dutch kids the rule of thumb is: get as much on as you think you can get away with! Enjoy!
Top Review by Ilysse
I've made these b4 for my daughter's birthday party. I cut the bread with cookie cutters and used muli-color sprinkles on some, chocolate on others and colored sugar on others. I remember my mom loved them. I'll have to send her this. I've made them for afternoon snacks, tea parties, and midnight snacks but I've never thought about making them for breakfast, but why not? A very simple idea that is cheap, easy and will hit the spot with good home made bread. Thanks for posting, the family is getting these for breakfast 2morrow :)
1

slice bread (another one for a "top" is optional)
margarine (or slightly softened butter)

2 -3

tablespoons chocolate sprinkles (hagelslaag, vlokken or kwinkslag or gestempte muisjes)
Take the slice of bread (always bread, Toast is a concept from over to other side of the English Channel).
Spread one side with margarine or softened butter.
Pour on your hagelslag, vlokken or kwinkslag (you can press it down with a knife to make it stick a little better if you want).
Cut the slice of bread in half and eat!