Tyler Florence's Watermelon Gazpacho
rpgaymer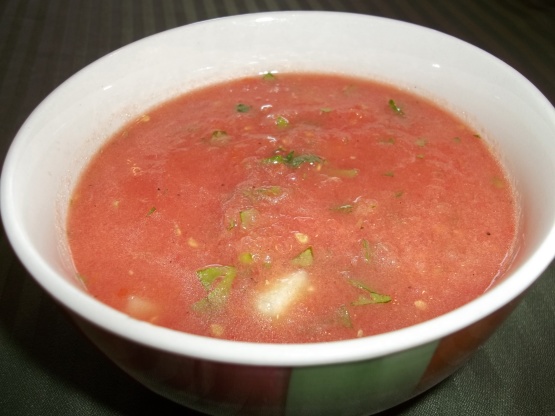 Taken from newspaper insert, Life magazine, AtHome section, Aug 26, 2005.

This is my favorite watermelon recipe! I subbed jalapenos for the serrano peppers, lime juice for red wine vinegar, and cilantro for the dill. I also garnished with sour cream rather than feta. I had ingredients for salsa on hand, which is why I subbed so much. Delicious.
Puree tomatoes, watermelon, and chili.
Add vinegar and olive oil; pulse.
Fold in onion, cucumber, and dill.
Sprinkle on salt and pepper to taste.
Pour into shot glasses or small bowls.
Garnish with extra dill and feta.
Enjoy at room temperature.