Two-Way Argentinean Barbecued Steak (Churrasco)
Prep 20 mins
Cook 10 mins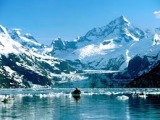 Churrasco is basically skirt steak. Skirt steak is usually a somewhat inexpensive cut of meat. The two sauces are a traditional chimichurri and a mock pineapple aioli. It's nice to have choices! Recipe from Ingrid Hoffmann.
Chimichurri

1⁄4 cup red wine vinegar
2 tablespoons fresh lemon juice (from 1/2 lemon)
3⁄4 cup parsley, fresh flat-leaf, chopped
3 tablespoons oregano leaves, fresh, chopped
2 garlic cloves, corasely chopped
2 tablespoons olive oil
1⁄8 teaspoon red pepper flakes (or more, to taste)

Pineapple Ailoi

3⁄4 cup mayonnaise
4 garlic cloves, finely minced
1⁄2 cup canned crushed pineapple in juice, drained
1⁄4 teaspoon lime zest, grated
salt, to taste
fresh ground black pepper, to taste

Steak

2 lbs skirt steaks
3 tablespoons olive oil
salt, to taste
fresh ground black pepper, to taste
Directions
Chimichurri:.
Put the vinegar, lemon juice, parsley, oregano and garlic into a blender and puree. With the blender running, add the olive oil, blending until the sauce comes together. Add the red pepper flakes. Transfer the chimichurri to an airtight container and refrigerate for up to 1 day. Serve at room temperature.
Pineapple Aioli:.
Mix the ingredients together in a bowl. cover with plastic wrap and refrigerate until completely chilled. Serve within a few hours of making.
Steak:.
Preheat grill to high. Rub the steaks with the olive oil and season them with salt and pepper. Grill the steaks for 3 to 4 minutes on each side for a medium-rare to medium steak, or longer for medium well or well done.
Serve with the two sauce choices and enjoy!
Most Helpful
I only made the chimichurri sauce...the hubby has a pineapple allergy...I served it with flank steak...the sauce is very tart...next time I think I will either decrease the vinegar or increase the oil...loved the presentation...made for FYC tag game...

Easy, fresh sauce for grilled meat. I just did the chimichurri. To my taste, I prefer relatively a little more olive oil. The addition of oregano with the parsley adds a little complexity to the flavor.

Used this on some smoked Tri Tip. Easy and good! Made for ZWT 9 and the Saucy Silverados.