Parsley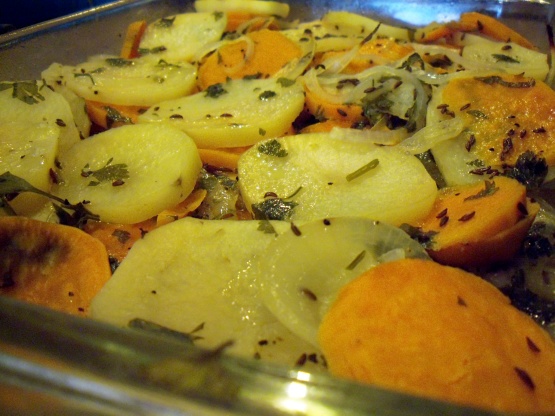 From "The Big Book of Casseroles", a flavorful and colorful dish of sweet and white potatoes, in broth seasoned with caraway seeds. Food processor makes slicing easier. A great Fall-Winter side for any meal. Embarrassingly simple !

Caraway seeds are my favourite and they were lovely in this potato bake. I also sprinkled a tiny bit of cayenne over the top too. Really nice with our roast pork, thank you.
Preheat oven to 350 degrees.
Place potatoes, onions, parsley, and seasonings in 2 1/2 quart casserole lightly coated with cooking spray or oil.
Mix well.
Pour broth over all.
Dot top with butter.
Cover and bake until potatoes are tender, about 1 hour.