Prep 30 mins
Cook 30 mins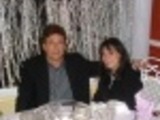 If you like bangers and you like Yorkshire pudding, you'll love this combination of the two favorites. Sort of like a sausage roll! The Australians know how to make things easier! Just scoop and enjoy!
Directions
Preheat the oven to 450 degrees. In a medium-sized bowl, combine the flour and salt; add the milk a little at a time and beat with an electric mixer until smooth. Add the water and eggs and beat until bubbly. Cover loosely and set aside for 1/2 hour in a cool place, but do not refrigerate.
Meanwhile, place the sausage in a 13x9-inch baking pan and bake for 20 minutes. Remove from the oven and pour the batter over the sausage. Bake on the center oven rack for 25 to 30 minutes or until puffy, well browned, and crisp.
Spoon out the Yorkshire pudding and sausage so that you get two favorites in every mouthful.
Reviews
Most Helpful
My husband loves Toad in the Hole, so he was happy with this recipe. I only used enough sausage for the two of us, but kept the batter the same. Made for Everyday Holiday Tag Game. :)

This was so easy and fun too, I love bangers and have wanted to try yorkshire pudding so here it is "Two-In-One" a real plus. I followed directions and the ease of preparing this is a real plus. The flavors blend well too so makes a great spur of the moment dinner. DH really liked it and said we could do this one again. Thanks for posting. Made for Newest Zaar Tag Game - I'll be back to post a photo once I get it downloaded.