Two for One Potato Skins and Casserole for Two
anme7039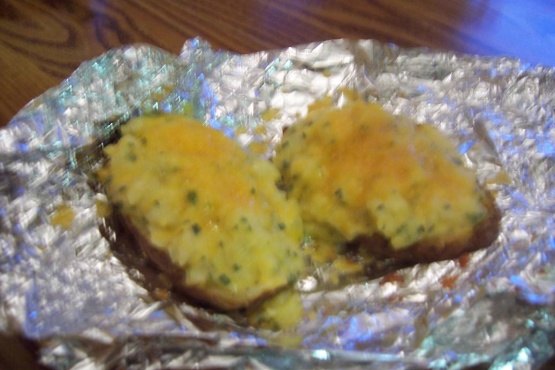 Easy side dish that kills two birds with one stone!

We enjoyed these for lunch today. We are in a potato eating frenzy, and it is so cold and rainy here, there was nothing left to do, except make these wonderful treats. I appreciate this recipe so much, because we will be using this again this Saturday for lunch. I didn't have any bacon, (what?) however, I had some "fake" bacon bits that I used and it was nice and crunchy. I added the chives to the top, and this was just pretty as a picture. I used almost the full amount of cheese, because like you, we love cheese. It was a breeze to put together and fun to have. It filled up that cold spot in our stomach. I might use green onion next time too, and there will be many more times to enjoy these. Thanks again, Anme!
Bake potato how ever you please, I microwave it for 5 minutes flip the potato, then microwave for five more.
Let potato cool then cut in half and scoop out the pulp and place the pulp into a bowl.
Mix all of the milk, the cheese reserving 3 tbs of cheese for skins and all but 3 tbs of the sour cream saving for the skins.
Grease two 6 oz ramekins and place the pulp mixture into the ramekins and top with cheese if you want to.
SKINS.
Cut the potato skins into four parts each, so you have 8 pieces.
Spoon a little sour cream on each skin and then top with remaining cheese and sprinkle with chives and bacon bits (optional).
You can place them in the fridge until you want to serve, or cook now.
To cook now place skins and ramekins into a 350°F oven until skins are toasted and until ramekins are heated through.
For vegetarian omit the bacon bits.