Two-Cheese Mushroom, Chunky Tomato and Olive Penne Bake
Redsie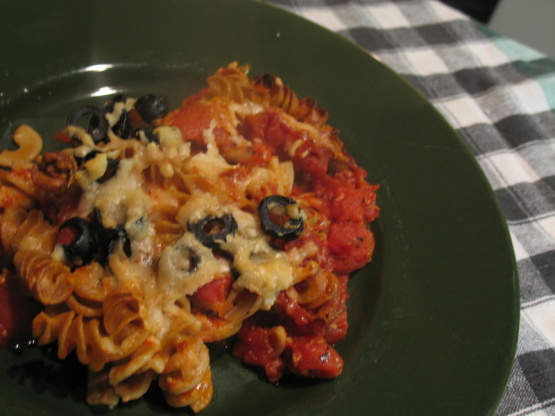 Quite a tasty pasta dish! To make this into a main meal add in some cooked diced chicken or turkey. The sauce can be made days ahead and just rewarmed. When I made this last I added in the sliced green olives right into the casserole instead of on top, but that is optional.

This turned out so delicious! My DH has eaten it two days in a row, which is unusual for him! I halved the recipe and I think it's still about 6 servings. I didn't have mozzarella, so used cheddar. I didn't have the full amount of canned tomatoes, so used some spagetti sauce to fill in and it worked out great! Thank you so much Kitten!
Heat oil in a large Dutch oven over medium heat.
Add in sliced mushrooms and saute until they release there moisture and they are lightly browned (this might take about 10-12 minutes).
Add in the onions, garlic, dried basil and dried chili flakes; saute for about 5-6 minutes.
Add in the drained plum tomatoes and chicken broth; bring to a boil breaking up the tomatoes with a spoon; reduce heat and simmer UNCOVERED until the sauce is thickened and chunky (about 1-1/2 hours).
Season with salt and pepper.
At this point you can refrigerate the sauce up to 2 days.
Set oven to 350 degrees.
Grease a 13 x 9-inch baking dish.
Cook the penne in a large pot of boiling salted water until JUST firm-tender (do not overcook the pasta leave firm!) drain very well (do not rinse the pasta) then return the pasta to the same pot and toss with 3-4 tablespoons oil.
Pour the sauce over the cooked pasta in the pot; toss to combine.
Add in both the Swiss and mozzeralla cheeses; mix well to combine.
Transfer to prepared baking dish, then sprinkle with the olives, & the Parmesan cheese.
Bake for about 30 minutes, or until the casserole is hot and bubbly.
Delicious!