alligirl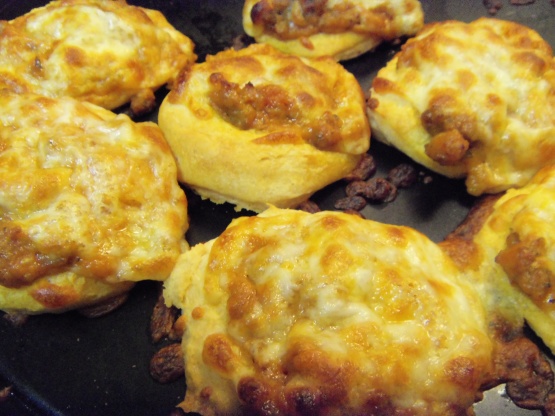 Fun and tasty appetizer - everyone loves these! Serve these on game day and watch them go!

Made for Photo Tag Fall 07 Loof! My guys love them! I subbed Hot Italian Sausage for the pork sausage and they are great! Thanks for a great snack option!
In a skillet, brown sausage and drain well.
Add cheddar and Parmesan cheeses, oregano, garlic salt, tomato paste, and tomato sauce and mix well. Simmer 20 minutes. Cool.
Open one of the biscuit cans and remove the biscuits. Separate each biscuit into 4 layers. Place the layers on a cookie sheet.
Spread 1 teaspoon of sauce mixture on each layer.
Repeat with second can of biscuits.
At this point, you can place the cookie sheets in the freezer until pizzas are frozen. Store frozen pizzas in a ziploc bag in the freezer until ready to use.
When ready to serve, top pizzas with mozzarella cheese. Bake at 400 degrees for 10 minutes.