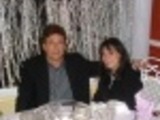 This makes a tasty, low-calorie breakfast or snack drink. Adapted from Good Food Magazine, June 1987.
Directions
Blend all ingredients in shake maker or blender until thick and frothy.
Reviews
Most Helpful
Delicious! I used vanilla yogurt so I left out the sugar but followed everything else and will be making this quite often! Made for Everyday's a Holiday Tag Game 2013.

Wonderful, wonderful! I followed this exactly, my berries of choice were blackberries and peaches. (I know, I know peaches aren't a berry) but nonetheless, the yogurt (fat free vanilla) went perfectly with the skim milk. No need to add sugar, but can understand if you wanted to. The vanilla extract really sends the whole ball home. Great! Thanks! Made for *Everyday is a Holiday* August 2009

Delish with a capital D! I had this for breakfast and enjoyed it all the way to work. I used blueberries and raspberries cuz that 's what I have handy. The vanilla is the perfect finishing touch, and I will be sure to use that in ALL my shakes/smoothies from now on...it makes it taste complete. Good job, Kelly! *Gnome Tag June 2009*