Deb Wolf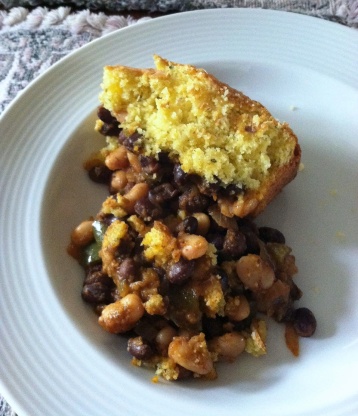 You'll never miss the meat in this one-dish meal. Just add a salad or fresh fruit. If you like chili and cornbread, you'll love this. Beans, sweet peppers, chili seasonings, topped with cheesy cornbread. Full of flavor and will stick to your ribs. My husband, a carnivore at heart, loves this. If you like your casseroles to be saucy, add an additional can of V-8.
Preheat oven to 400°F.
Spray a 2 quart casserole with non-stick.
Cook sweet pepper, onion and garlic in oil until tender.
Add beans, Spicy V-8 juice, chili powder and cumin. Stir. Bring to a simmer.
Pour into prepared casserole.
Combine muffin mix, milk and egg just until combined. Gently fold in cheese and cilantro. Pour over bean mixture.
Spread to completely cover beans. Make sure batter touches the side of the dish all around.
Bake, uncovered 20 - 25 minutes or until top is golden.