ErikaNY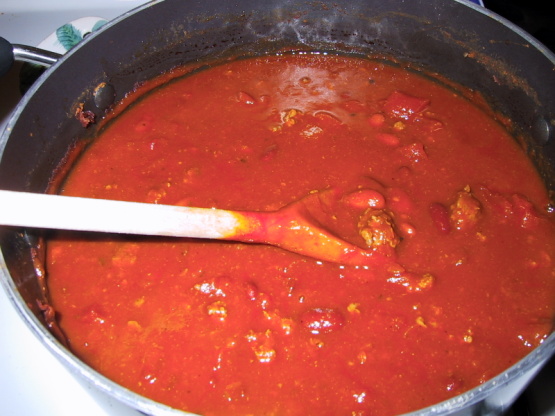 I got this recipe from a Taste of Home publication awhile back - I previously had a favorite chili recipe that I loved and always used, but when I saw this recipe included refried beans (which I absolutely love), I had to try this! Now I have 2 favorite chili recipes (after making a few changes of my own). This particular recipe makes a large batch and it freezes GREAT.

My kids and DH all loved this. I got it several hours later, after he had put noodles in (!) and they soaked up almost all the sauce! So I don't have a true taste of it. I didn't add kidney beans (DH hates them) and used V-8 juice and a few shakes of Louisiana hot sauce. Also reduced the chili powder to 2 T and used ground turkey. What I tasted seemed like it needed something, but may have been affected by the noodles (or the 1 T less of powder.)
In a soup kettle or Dutch oven, cook the ground beef and onion over medium heat until meat is no longer pink; drain.
Stir in the remaining ingredients.
Simmer on stove, uncovered, for 2-3 hours.
Enjoy!