Twix Chocolate Chip Cookies
Annacia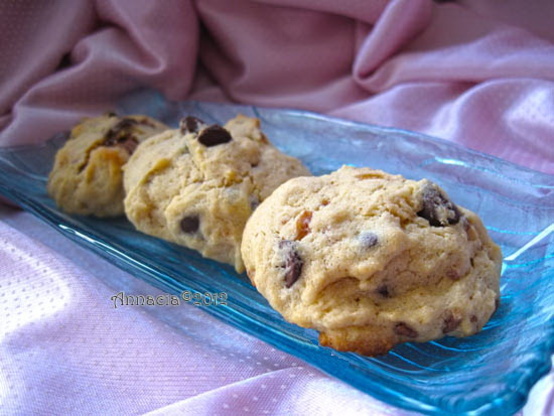 A variation on a cookie recipe from the King Arthur Flour Cookie Companion. The cookies were a hit with the whole family! For the chocolate bars, I used about 4 Twix bars, but pretty much any chocolate bar would work well!

Bet ya can't eat just one! Really, these cookies become an addiction with the first bite. I never have corn syrup in the house so I used No Sugar Added maple syrup and proceeded with the recipe as ask. These are great cookies, the Twix add textured and flavorful bits that fullu compliment the chocolate chips. I found that the caramel leaks out in one or two places and needs to be broken off but that wasn't any trouble. I should also say that I set the oven @350 and the cookies were beautifully baked @12 mins even though I made them bigger than specified, I cut the recipe amount in half and scooped generously so I ended up with 18 perfect and scrumptious soft cookies. Will certainly make again!
Preheat the oven to 375˚F.
Cream together butter, sugars, corn syrup, and vinegar.
Beat in eggs, vanilla, salt, baking powder, and baking soda.
Stir in flour.
Add Twix pieces and chocolate chips, and mix.
Drop cookie dough into 1 tbsp balls onto a parchment-paper-lined baking sheet. They spread out a fair bit, so seperate them by about 2 inches to avoid sticking together. I had to do about 3 pans, but it's worth it!
Bake for 10 minutes, or until golden brown but still soft.