Twisted Sisters Cornbread Quest
karen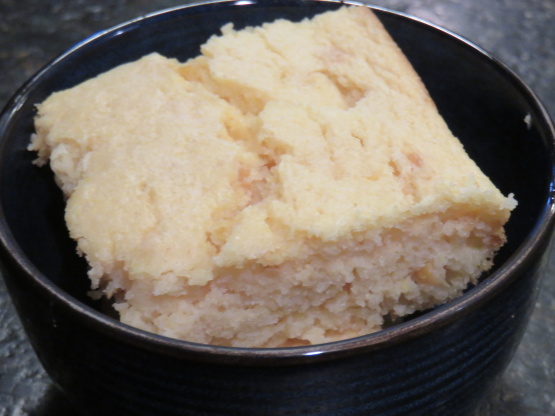 I have been on a personal QUEST of my own to find a way to make cornbread without cornmeal (cannot buy it here in Iceland) and then use my real Twisted Sister to help make a recipe happen for me. Not only did I do it for the Challenge, but I think mine is better than hers. Do not expect dry or coarse cornbread from this recipe. It is moist, cake-like in texture, full of flavor and not in need of any butter, etc. My bet is you will agree with only 1 bite. I already know you will ENJOY!

This is a different cornbread in that it uses sour cream and creamed corn. so be prepared for something really rich. No butter needed. Taste greats with jelly. I made my own creamed corn, but it probably would have been better with canned creamed corn.
Preheat oven to 400 F . Grease an 8x8 baking pan & set aside.
Stir the all-purpose flour, corn flour, salt & baking powder together in a mixing bowl.
Add eggs, sour cream & vegetable oil to the dry ingredients & mix well with a whisk. You may use a hand-held mixer on a low setting if you wish (I did).
Fold in the creamed corn until well-distributed.
Pour into the greased baking dish & bake 25-28 minutes or until it tests done. I suggest the longer time if you are at all in doubt.
Allow to cool until it cuts easily into 9 square pieces. Serve & enjoy!
NOTE: For those of you who have cornmeal & prefer using it, this is 1 of the few recipes where cornmeal & corn flour can be swapped in the stated amounts. The texture will change somewhat, but not in a bad way. :-).