Twisted Sister's Creamy Cucumber Salad
Boomette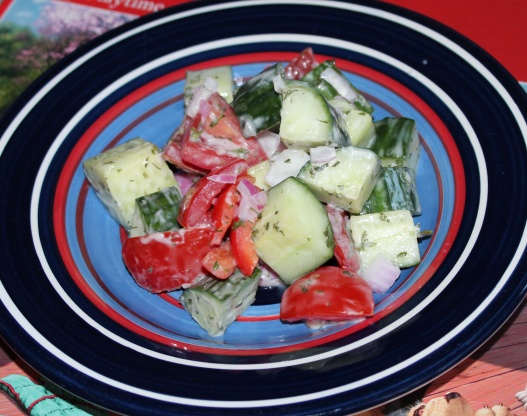 When I arrived in Iceland, this was my DH's 1st food request & I went thru a lot of RZ cucumber salad recipes to be sure it wasn't a duplicate. Siggi & my sister named this because it was original w/me & because of my twissis internet identity. For best results, don't make this a dy ahead, but do allow at least 2 hrs for the flavors to blend & the "cream" to develop from the finished ingredient mix. I promise you'll like this. (Stated time does not include refrigeration time)

This is our go-to salad recipe when we have forgotten about a party or office function or those "last minute" dinner guests! The whole family loves this recipe and it is SO EASY! You have to use really good, fresh tomatoes and cucumbers but during season, I make this all the time, sometimes just adding veggies as the salad bowl starts to run low. I usually only use a couple of tablespoons of Mayo with all the other ingredients staying the same. It just makes a "creamy" sauce within an hour! Thanks twissis for a yummy, yummy salad!!
Peel & slice cucumbers in 1/2 in thick slices. Then half ea slice & transfer all slices to a lrg mixing bowl (See note).
Roughly dice red onion & add to the bowl.
Quarter tomatoes, remove seeds, rough dice the tomato "meat" & add to the bowl.
Thinly slice 1/2 green pepper, cut slices in 1 in strips & add to the bowl.
Toss prepared "veggies" to achieve a good distributional mix.
Add last 6 ingredients to bowl, mix well & refrigerate at least 2 hrs (stirring at least once to redistribute ingredients).
Notes: The cucumber cut is esp important. If thinly sliced, most cucumbers wilt & do not retain their crunch. -- When all ingredients have been combined, the mixture will appear dry & lack a creamy texture or appearance. DO NOT PANIC – that will begin to change almost immediately.
Note added 7/24/06: In response to reviewer comments, the amt of salt has been reduced by half. If you reduce further, you will likely lose any salt component in the mix.