Bergy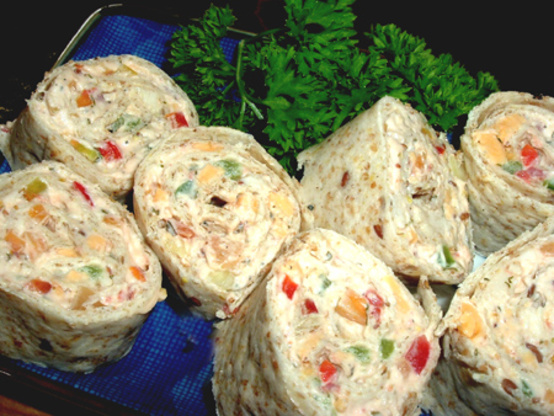 These colorful pinwheels are a fast item for an appetizer tray, but they also make a tasty lunch and are very kid friendly. ----This was an entry in RSC #10.

This was my first time making pinwheels of any kind. I thought they turned out very well. I used 'garden spinach herb' tortillas which added a beautiful green color to them. I think that the chicken could be left out, I didn't feel like it did much for the recipe, and then it would be vegetarian as well. I took them to a potluck and got many compliments. I definately recommend making them ahead and wrapping and chilling them, it makes them much easier to slice and gives it time for the flavors to blend. Thanks!
Finely dice all veggies.
Stir in grated cheese and salsa.
Beat in cream cheese.
Stir in well drained chicken and spices.
Spread on 6 flour tortillas taking care to spread evenly and to the edges. Roll tightly. Note: The rolls can be prepared ahead by tightly wrapping the individual rolls in plastic wrap at this point.
Chill until ready to serve.
Slice before serving. Cut each roll into 1 inch slices carefully to preserve the round shape.