Mika G.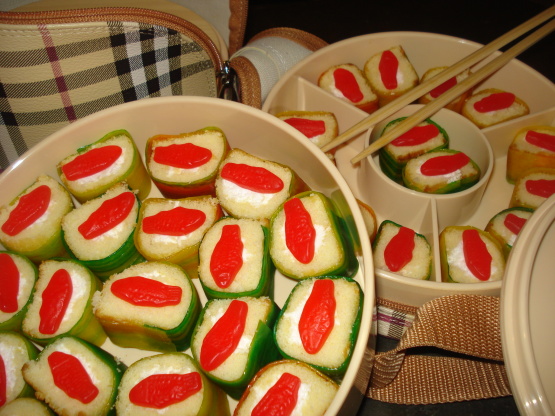 I found this hysterical creation on the Twinkie website. It was created by chef Clare Crespo, and I think it is rather ingenious.

my lil sisters class thought they were great and the family did as well!!
3

Hostess Twinkies
assorted dried fruits
assorted fruity decorative candies

2

green fruit leather
dried mango (looks like pickled ginger)
Slice Twinkies into pieces about an inch tall.
Slice fruit rollups in strips to be long enough and wide enough to wrap around the Twinkie pieces.
Place dried fruits and candies into the cream filling.
Place Twinkie rolls on a plate or in a Bento box.
Garnish with strips of dried mango to resemble pickled ginger if you wish.
Serve with chopsticks.