Miss V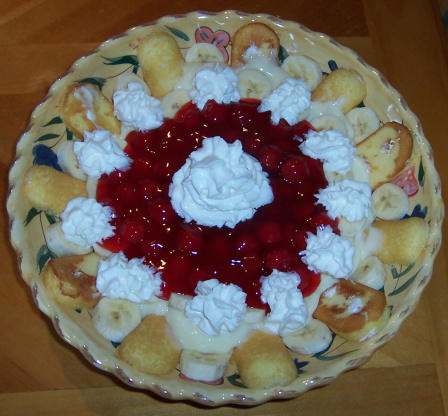 If you like Twinkies, you will sure love this cake. This is an easy cake because there is no baking. With the maraschino cherries on top of the cake, it is a pretty cake for the Christmas holidays.

It's different than the one I made, but it looks and sounds interesting! I've always liked cherries.
Split Twinkies in half.
Place in a 13 x 9 inch baking dish, filling side up.
Mix 4 cups of cold milk and vanilla puddings together.
Spread pudding mixture over the Twinkies.
Layer the drained pineapple.
Layer sliced bananas over pineapple.
Cover with Cool Whip.
Sprinkle with nuts and place cherries on top.
Note: I used 1 package of vanilla and 1 package of banana cream pudding mix.
You can use fresh strawberries also, or whatever you want.