mikey ev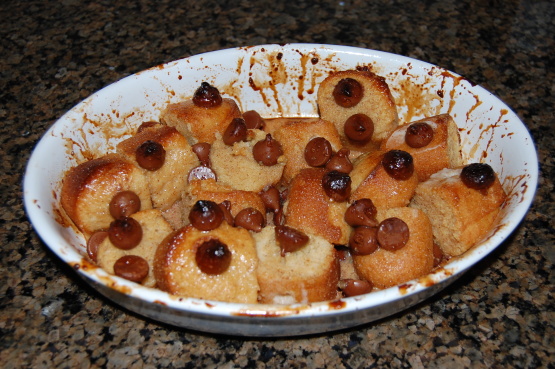 I have not tried this yet but I'm sure my kids would love it! I cut this recipe by half from the original one I found.

Let me start by saying you can't go wrong with these ingredients! I had gotten a twinkie bake set for my birthday so I made my own twinkies instead of buying them packaged. Maybe it's because of this, or the fact that I halved the given recipe (and followed it exactly), but the end result wasn't great. The flavor was amazing (as expected), but it was in NO way bread pudding. It was a little dry, so maybe try more milk mixture, or try cutting the twinkies into smaller pieces. Might try this again with real twinkies and more milk mixture. Good luck!
Preheat oven to 350 degrees F.
Place cut Twinkies in large mixing bowl.
In a small mixing bowl, blend together sweetened condensed milk, eggs, cinnamon and salt; blend well.
Stir in chocolate morsels.
Pour milk mixture over Twinkies, and stir gently to coat.
Allow to stand 5 minutes.
Spray a 9 x 13-inch baking dish with nonstick spray coating.
Spoon Twinkie mixture into pan.
Bake 35 minutes or until golden brown and set.
Let cool a bit then enjoy.