RonaNZ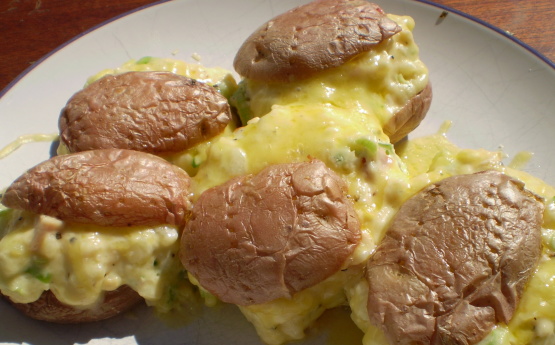 Imagine--twice baked potatoes on a work night!

Top Review by RonaNZ
Great recipe for a quick weekend lunch. It filled us up nicely. I only had medium sized potatoes so I did 5 for the two of us and halved the other ingredients (except the egg of course). It made a nice creamy filling. I used smoked chicken instead bacon since that's what I had.
Wash and pierce potatoes.
Cook in microwave until a knife will go all the way through potato easily (times will depend on size of potatoes and microwave wattage, but about 10 minutes or so is the average for me).
Cut top off each potato lengthwise.
Scoop out most of potato flesh trying not to go all the way through skin.
In large mixing bowl add potato, green onions, cheddar cheese (reserve some for top), egg, bacon, sour cream, and salt & pepper (remember to add plenty of salt).
Smoosh everything together with a potato masher.
Add mixture back to skins, mounding it up.
Sprinkle with reserved cheese.
Nuke again until cheese is melted (about 3 minutes).
Note: I do all of this while the potatoes are still hot so that the egg gets a little pre-cooking from the heat of the potatoes and that, combined with the 3 minutes in the microwave, will cook the egg just fine. Remember that microwaves cook from the inside out so the egg will be cooked before the cheese melts.
Enjoy!