Twice Cooked Baby Potatoes
Bergy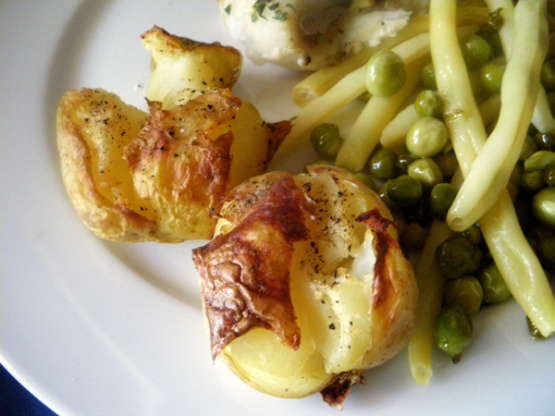 Beautifully soft on the inside and crispy on the outside, these little potatoes are a treat! Using a garlic or herb-infused olive oil would really take them over the top, or try tossing in a bit of fresh herbs at the end. Delicious!

I used chili infused avocado oil with a few slivers of butter instead of olive oil. I grilled them instead of baking since the potatoes were technically already cooked. I also added some dry Italian herbs after grilling. Yum!
Wash potatoes.
Boil potatoes about 15 minutes or until just tender, and drain.
Coat with olive oil and let cool until cool enough to handle.
Preheat oven to 400 degrees.
Place potatoes on a large rimmed baking sheet.
Using the flat bottom of a small saucepan gently press down on each potato until it flattens slightly and the skin splits
Sprinkle with salt and pepper. I prefer kosher salt.
Bake for 20 - 30 minutes until the potatoes are browned to your taste.