Twice-Baked Sweet Potatoes With Leeks and Sausage
IngridH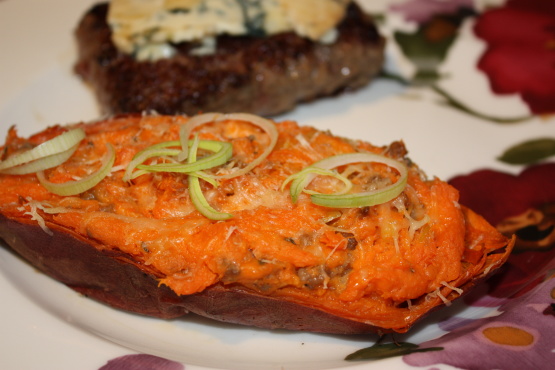 From Fine Cooking, Dec 2011. I've adapted these a little bit, using less leek than the original called for. The original also called for 4 small sweet potatoes, which I've never found; the ones I get are a pound or more so I've adjusted the cooking time to reflect this. If you can find small ones, cut back the first baking time to 30 minutes.

I ended up reducing the recipe to make one smallish sweet potato, all for me. In full disclosure, as I am finding climbing stairs just a little difficult right now, I made this all in the microwave. The potato cooked in about three minutes. I lopped off about 2 in from a large sausage link, and a good inch or so from a huge leek. Threw in a spoonful of sour cream and combined it all. I did have to use dried herbs, and also added ground black pepper. For me, this could have used a little more seasoning - it might be the quality of sausage I used, but I should have added more seasoning after tasting the mash. I returned it to the microwave, covered, to heat through and melt the cheese. Roasting the sweet potatoes probably would enhance the flavor, but this made it doable for me on a work night. Definitely check this out!
Heat the oven to 375 degrees Fahrenheit.
Prick the sweet potatoes with the tip of a knife; place on a baking sheet.
Bake for 1 hour, or until completely tender.
In a medium skillet over medium high heat, crumble the sausage.
Cook until all trace of pink is gone. It doesn't need to be brown, just cooked through.
Drain any excess fat and set aside.
In the same pan, melt the butter over medium low heat.
Add the leeks, sage, and thyme.
Cook until the leeks are soft and starting to turn golden.
Remove the leeks from the pan and set aside with the sausage.
Cut the sweet potatoes in half lengthwise.
Carefully scoop the flesh into a mixing bowl, leaving 1/8 inch of flesh around the edge, so the skin will not fall apart when you fill it.
Place the empty skins on a baking sheet.
Preheat broiler, placing the rack about 6 inches from the heat.
Mash the sweet potato flesh until smooth; add the sour cream and kosher salt, mixing to combine.
Add the sausage and leeks and mix well.
Taste for seasoning, and add more salt if needed.
Scoop the sweet potato mixture back into the skins; top with the grated cheese.
Place in the oven and broil until the cheese starts to brown, about 4 to 5 minutes. Remove from oven.
Cut each potato in half to make two servings. (If you used small potaotes, you won't need to do this).