Twice Baked Sweet Potatoes
Prep 20 mins
Cook 45 mins

Adapted from tips for sweet potatoes in Fine Cooking 11/06. Great for using leftover baked sweet potatoes in their jackets. nt
Directions
Saute chopped shallots in olive oil until they soften and begin to caramelize; do not burn.
Preheat oven to 375°F.
Cut potatoes in half lengthwise and scoop out soft flesh.
Mash sweet potatoes in a bowl with cooked shallots, sour cream, salt and pepper.
Stir in crumbled bacon and grated cheese.
Fill empty potato shells with mixture.
Bake at 375F for 45 minutes to one hour, or until potatoes are hot and toasty on top.
Reviews
Most Helpful
I used freshly snipped chives to add a color variant for the photo, but otherwise was faithful to your recipe. I had a presentation issue unrelated to the recipe. I wrapped the potatoes in foil to bake. Just as they finished baking yesterday, we got an unexpected invite to join friends for dinner & I put the potatoes in the fridge. When I got them out today to complete the recipe, their jackets literally fell away from the cooked flesh. So I completed the recipe & baked the mixture in gratin dishes. All that said to explain the photo, I should tell you my DH is very fond of twice-baked potatoes but I have never made them w/sweet potatoes. Per DH, *Well worth 5 stars and I will be happy to see these potatoes on my plate as often as you can fix them* – high praise from one who reveres potatoes & ensures they will be repeated. Made for Photo Tag & thx for sharing this keeper recipe w/us.

Oh my word, delicious!! We already love normal twice baked potatoes, so I was excited to try this recipe as we fancied a change. Brilliant! It's made me love sweet potatoes even more!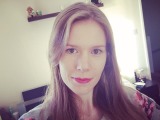 Loved this. I only made one but was so good. Served with steak and broccoli salad.

Thanksgiving Tips & Ideas >