Twice-Baked Sweet Potato (For One)
Bone Man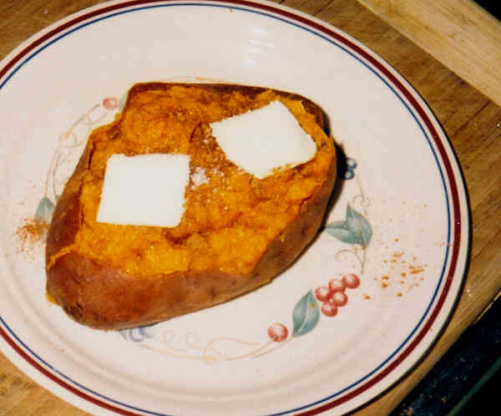 A great brunch or side dish idea. I would characterize this dish as elegant, easy to prepare, pleasing in flavor and CHEAP! You could expand the recipe and serve these potatoes to a bunch of guys for a SUPER BOWL or poker party. My wife really loved this version of the venerable and versatile sweet potato.

Great way to get sweet potatoes into everyday dinners. I microwaved mine for 5-7 minutes first to get them soft. These had really great flavor, thankd for posting!
Preheat oven to 400-degrees F.
Wash the sweet potato and rub it all over with the olive oil. Poke it a couple of times on TOP with a fork so that it doesn't blow up while baking. Do NOT wrap it in aluminum foil! Bake in the oven at 400-degrees F. for about one hour.
In a small bowl, melt the butter in the microwave for a few seconds, reserving two slices for topping later, and then blend in the brown sugar.
When the potato has baked to the point that the pulp is tender, and after it has cooled a bit, carefully cut out the top and scoop out the pulp into a medium mixing bowl. Save the intact potato skin! Mash the potato pulp with a fork and add in the butter/brown sugar mix.
Spoon the potato pulp back into the potato skin and top with the two slices of butter, the sugar, and the cinnamon.
Place the potato on a cookie sheet and BROIL on high for about 6 minutes. Watch it carefully so that it doesn't burn the top.
Serve hot.