Twice-Baked Potatoes With Leeks
NELady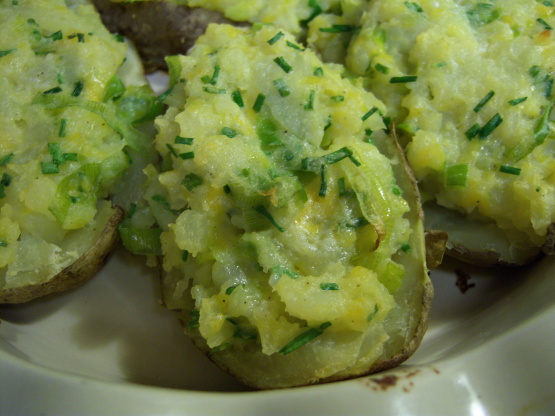 I love the combination of leeks and potatoes, and I love twice-baked potatoes, so this recipe is ideal for me. This is a great presentation, with leeks in the potatoes and garnished with frizzled leeks as well. To make ahead, you can fill the potato skins and chill; then bake for 30 minutes.

These were actually much easier to do than I thought they might have been. I used skimmed milk and fat free cream cheese. I think next time I will use a higher fat cream cheese because it broke down a bit too much when doing the mash. That is my problem though and not that of the recipe.We both enjoyed these and I know I will be cooking them again. Made for PAC Fall 2009.
Heat oven to 400 degrees. Pierce potatoes with fork; bake until tender, about 1 hour.
Chop 2 leeks. Cut remaining leeks into thin strips about 2" long. In nonstick skillet, melt 1 T. butter over medium heat. Add chopped leeks; cook, stirirng, 5 minutes.
Horizontally cut top 1/3 from each potato. Scoop potato from skins, leaving 1/4"-thick shells. Heat milk and remaining butter until hot; add to potatoes with cheese, salt and pepper. Mash; stir in cooked leeks. Pipe or spoon mixture into potato shells. On baking sheet, bake until golden, 20-25 minutes.
In nonstick skillet, heat 1/4" oil over medium heat. Add sliced leeks; cook, stirring, 2 minutes. Drain on paper towels. Top potatoes with leeks and, if desired, sour cream.