Twice Baked Potatoes/Quick and Simple!
Nif_H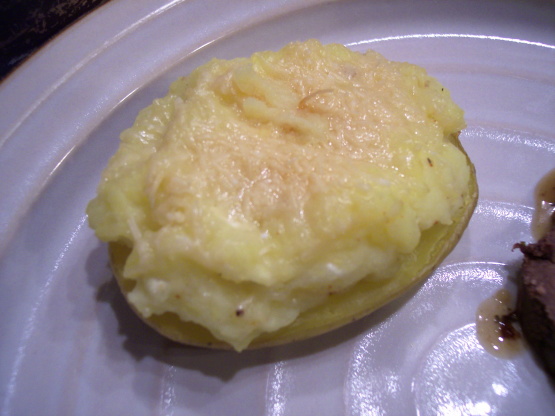 Pretty much self explanitory!-great for left over baked potatoes-or from scratch-this is my own recipe that i have been using for years- but I'm sure that i didn't invent it---LOL!

Top Review by Nif_H
Yum! I made this low fat, so I used Recipe #390803, nonfat cottage cheese, seasoning salt, pepper and freshly grated parmigiano reggiano on top! My husband absolutely loved these and he usually doesn't get excited about food! Made for My 3 Chefs tag. Thanks Chef bigbill! :)
4 -6

large baking potatoes, cut in half long ways or slit down the middle and scooped out of the whole potato-your preferance
1⁄2 cup milk
salt and pepper, to taste

Mix in when you mash the potatoes or add as toppers

sour cream or chives or cheese or bacon bits or condensed broccoli cheese soup, straight from the can, ADD these or anything else you like
Bake or nuke your potatoes as normal till done-then here's what I like to do with them-Scoop out all that you can and mash them with some milk- add whatever you want to them bacon bits etc. (cheese) let your imagination go wild- in the mean time set the oven to 350 spray the potato skins with butter or olive oil and salt and pepper them, put them --skin side up---- on a cookie sheet and bake them till they start to brown a little- take them out -add the hot mixture inside the cavity and bake again till they start to brown on top alittle--I guarantee that you'll never fix a baked potato any other way again!