Twice Baked Potatoes for Two
teresas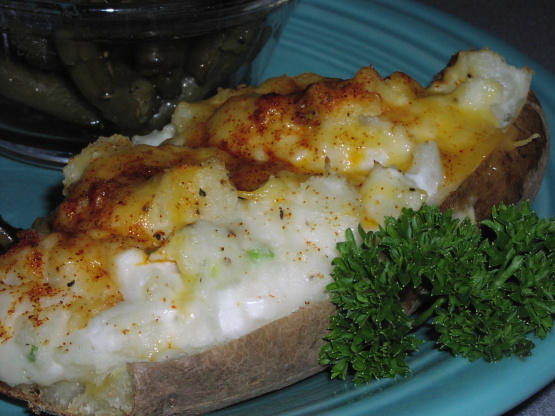 Mashed potatoes with cream-style cottage cheese, butter, mayonnaise, chives and sprinkled with cheddar cheese and baked.
Scrub potatoes thoroughly, and rub skins with oil; bake at 400°F for 1 hour or until done.
Allow potatoes to cool to touch. Cut potatoes in half lengthwise; carefully scoop out pulp, leaving shells intact. Mash pulp.
Combine potato pulp and next 6 ingredients; mix well. Stuff shells with potato mixture; sprinkle with cheese and paprika. Place in a shallow baking dish; bake at 375°F for 15 to 20 minutes or until thoroughly heated. Yield: 2 servings.
Southern Living.