Diana 2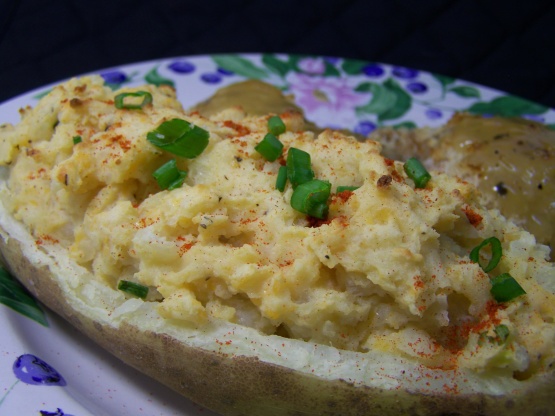 -These creamy stuffed potatoes have a mild smoky flavor and are easy to make. Most of the cooking time is baking the potatoes before stuffing. I prepared everything early in the day and did the final bake at dinnertime. The listed serving size is half a potato per person. Created for RSC #15

Made as written for RSC #15, we really enjoyed these twice-baked potatoes & I esp like their make-ahead option. While the potatoes were baking, I combined the remaining ingredients & made quick work of the rest of the prep when they were done. They were creamy-rich w/o being overly so, had a perfect balance of flavors & were surprisingly low-cal & low fat. DH is predictable & rarely given to 5* ratings, but it was quick & easy for him w/this recipe. Merely as a comment & not meant as a negative, he mentioned that crumbled bacon would be good as an opt add & it pleased me that he is beginnging to think as I often do. Thx for sharing your recipe w/us & good luck in the contest. It could be you! - Edited to Add that I re-made your recipe w/bacon added & used a pie-plate presentation for a family dinner party. Pic posted.
Scrub potatoes. Spray pan and potatoes with cooking spray and lightly sprinkle with salt if desired. Bake at 350 degrees until done (approx 40 minutes).
Let potatoes cool enough to handle. Slice in half lengthwise. Spoon out the inside of the potatoes into a bowl; leaving a shallow amount in the shells. Place shells back into pan.
Add cream cheese, butter, sour cream, cheddar cheese, 2 tablespoons of the milk and all spices into the bowl with the potato insides. Stir until blended & fluffy, but not overworked. Adjust with additional tablespoons of milk if needed. The result should be creamy, but still scoop able.
Spoon into the potato shells. Cover and chill at this point if making for a later meal. They can also be frozen at this point.
Bake at 350 degrees for 20-25 minutes or until potatoes are hot & lightly browned. If working with chilled potatoes made earlier in the day add 10-15 minutes cooking time. The potatoes can also be baked directly from frozen by adjusting the cooking time.
Optional garnish: After removing from oven sprinkle lightly with smoked paprika & the green onion tops for color.