alligirl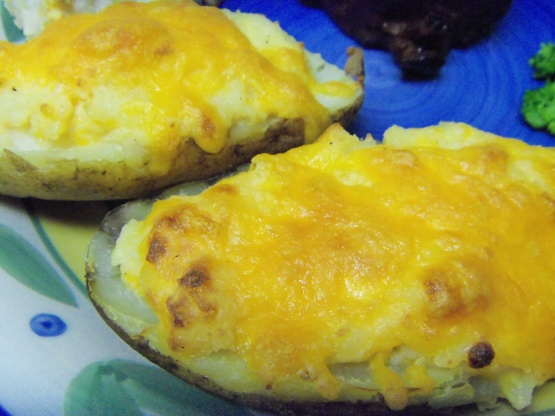 Great side dish for anything! Cheesy and yummy, kids and grown ups alike will love this!

These potatoes are pretty good! Pretty simple and easy too! I did add a bit of cheddar, on top, before returning to the oven for the final bake. Yum! Next time, I may add a little crumbled bacon, or a pinch of garlic, just to change it up a bit. Thanks for sharing, hotdish; I will be making this one again!
Bake potatoes at 400 for 1 hour or until tender.
When cool enough to handle, cut pototoes in half and scoop out inside, leaving 1/2 in border.
Mash potatoes with all other ingredients.
Spoon or pipe mixture back into potato skins.
Return to oven for 10 minutes, or until tops are slightly browned.