Twice Baked Potato Casserole
bunkie68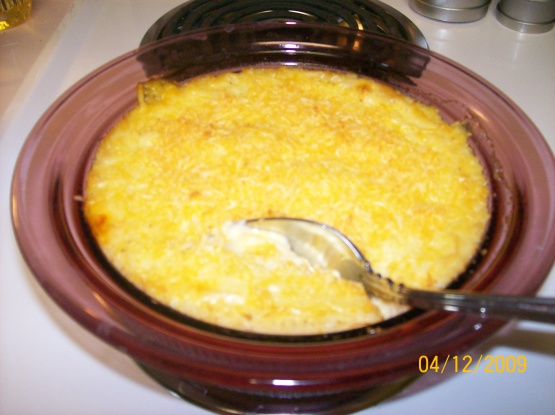 This is really rich and really good, which makes it really bad for your diet! If you like perogies then you'll love this recipe. My husband says it reminds him of his favourite perogy filling.

This was indeed very rich! I made this for PAC 2009, and followed the recipe as written, except that I substituted Velveeta for Cheez Whiz, as that's what I had on hand. I liked the recipe, and the addition of the sauteed onions gave it a good flavor. I might add more onions next time, and I might leave my potatoes more coarsely mashed - I think I made them too mushy (although that's my fault, and no reflection on the recipe!). I did think the amounts of sour cream and cheese were perhaps too much for the amount of potatoes. My husband said all he could taste was sour cream and cheese. Next time I might add more potatoes, and maybe some crumbled bacon and chives as well. With a few tweaks, I think this could be a really great recipe. Thanks for sharing, Sameveel!
Place potatoes in a large pot, cover with water and boil until fork tender.
Preheat oven to 350 degrees.
Sautee onion in butter until browned.
Once potatoes are tender, drain and mash with onion, sour cream, cheese whiz, mayonaise, salt and pepper.
Place mixture in oven-safe casserole and cover with cheese.
Bake until heated through and cheese is melted.