Twice- Baked Potato Casserole
Prep 25 mins
Cook 40 mins

The flavour of twice-baked potatoes in an easy casserole dish (no cream soups!) for everyone to share.
Directions
Preheat oven to 350 degrees. Lightly grease a shallow 2-quart baking dish.
Cook potatoes in a large pot with salted water to cover for 20 to 25 minutes, until tender when pierced. Drain well and return to pot. While potatoes are still hot, add butter and mash with a potato masher until smooth. Stir in 1 cup of cheese, milk, sour cream and eggs until blended. Then add 1/2 cup of scallions, 3 slices of bacon, crumbled; salt and pepper to taste.
Spoon into the prepared baking dish. Sprinkle with remaining cheese and 2 slices of bacon, crumbled.
Bake uncovered for 35-40 minutes or until the top is lightly golden brown. Sprinkle with remaining 1/4 cup of scallions and serve.
Reviews
Most Helpful
This sounds terrific but for the better taste of baked potato I would bake the potatoes first unless you were needing to use up leftover potatoes.
This was great! I'm a huge fan of twice baked potatoes anyway, the whole bacon/onion/cheese/sour cream really works for me, so making a casserole version really appealed! I am a true believer that bacon makes everything better and it was true of these potatoes too. There is something so comforting about a big plate of mash, especially when it's not just plain mash!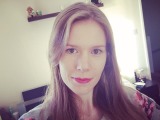 Made exactly as written but we didn't really care for this. I think it may have been the addition of the eggs and the bacon seemed to be overpowering.