katew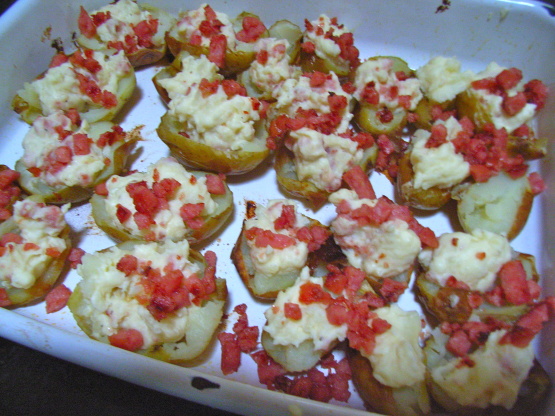 This recipe was a runner-up in a TOH contest (submitted by a reader in Illinois). These potatoes could be served as an appetizer or with a main course. You can substitue low fat ingredients when possible.
Pierce potatoes; rub skins with oil. Place in a baking pan and bake, uncovered, at 400 degrees for 50 minutes or until tender. Allow potatoes to cool to touch. In a mixing bowl, combine the Monterrey Jack cheese, sour cream, cream cheese, onions, basil, garlic, salt and pepper.
Cut potatoes in half; carefully scooping out pulp, leaving a thin shell. Add pulp to the cheese mixture and mash; stir in bacon. Stuff the potato shells and broil for 7-8 minutes or until heated through.