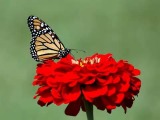 This recipe was a runner-up in a TOH contest (submitted by a reader in Illinois). These potatoes could be served as an appetizer or with a main course. You can substitue low fat ingredients when possible.
Directions
Pierce potatoes; rub skins with oil. Place in a baking pan and bake, uncovered, at 400 degrees for 50 minutes or until tender. Allow potatoes to cool to touch. In a mixing bowl, combine the Monterrey Jack cheese, sour cream, cream cheese, onions, basil, garlic, salt and pepper.
Cut potatoes in half; carefully scooping out pulp, leaving a thin shell. Add pulp to the cheese mixture and mash; stir in bacon. Stuff the potato shells and broil for 7-8 minutes or until heated through.
Reviews
Most Helpful
I chose not to include bacon since I was serving these with Spam. Wonderful little appetizers. Would be great with bacon too. Our daughter thought it had too much garlic but everyone else thought it was great as is.

Delicious little mouthfuls !! We are not eating till after 9 tonight so these little snacks will stop our tummies rumbling. They were easy to do and pretty to look at. DD was eating them as I was constructing them as they are so hard to resist.
I started preparing dinner (a boring ol' meatloaf) and spotted these on a tag game, and just decided to give them a try. So cute and fun. The only thing I did different was that I sprinkled kosher salt on the outside of the oil rubbed skins before putting them in the oven, and I used cheddar cheese in the pulp mixture instead of Monterey Jack. The meatloaf is almost done baking, but we have already started munching on these little bites! Hubby is happy and so am I. Thanks for posting.<br/>P.S. I cut the ingredients down quite a bit to make just enough for hubby and I. I think I may make a whole batch for our Christmas dinner since they are so easy and delightful. Thanks again.