Twice Baked Caesar Potatoes
CandyTX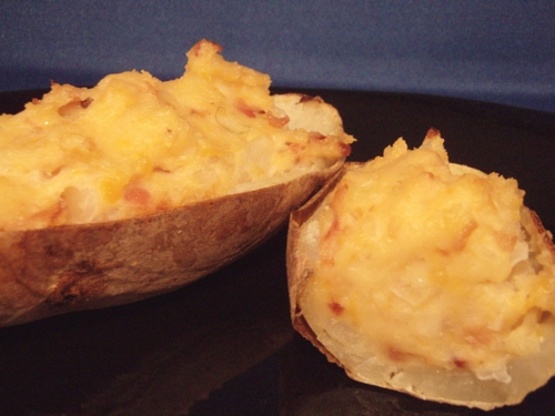 The roasted garlic dressing gives these potatoes a wonderful flavour and creaminess

Very very good, and simple! MY DH loves baked potatoes any way and he really enjoyed this! I could not find (betweeen 3 grocery stores) the roasted garlic caesar dressing so I ended up with creamy caesar and threw in a tad of monced garlic, which worked out great!
Bake potatoes in 400 degree oven until tender (45-60 minutes).
Cook bacon until crisp-pat dry and crumble.
Drain almost all fat from bacon pan- add onion and cook until soft.
Cut baked potatoes in half.
Scoop out potatoes leaving 1/4" shell.
Mash potatoes until smooth and mix in dressing, cheese, bacon and onion.
Spoon mixture back into potato skins.
Bake in oven at 350 until heated through.
Broil for 2-3 minutes to brown lightly.