Jollymae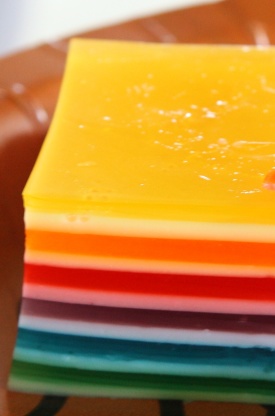 Kids and adults alike love this 'salad!' Nice to slice & serve on a lettuce leaf (for presentation)- the colors can be varied to suit any holiday - greens & reds for Christmas, varying shades of red for Valentine's Day, etc.. ENJOY! This sounds like a lot of work, but it's really not. This is one I like to make when I'll be working around home all day, and can stop to do step after step. :)

Top Review by dojemi
I haven't made this recipe as posted, but I would like to add another suggestion for presentation. My MIL use to make a similiar one in a large brandy sniffer-type glass with a stem base. She would put in the first jello flavor and then set the stem of the siffer between the grates of her fridge so that the jello would gel at an angle. She would then proceed with each additional flavor. It made an awe-inspiring presentation.
Add 1 cup boiling water to cherry jello.
Stir until dissolved.
Divide in half.
To 1/2 the jello, slowly add 1/3 cup sour cream& stir until smooth.
Pour into a 9x13 pan.
Chill 25 minutes.
Add 2 Tablespoons cold water to remaining jello& pour over first layer.
Let set 15 minutes.
Repeat process for each flavor, using flavors in given order for color effect.
(You can use any combination of flavors/colors you wish to make the desired color combination.) When completely cooled& firm, slice into squares& serve.