Twelfth Night Cake or King Cake(Galette Des Rois)
Boomette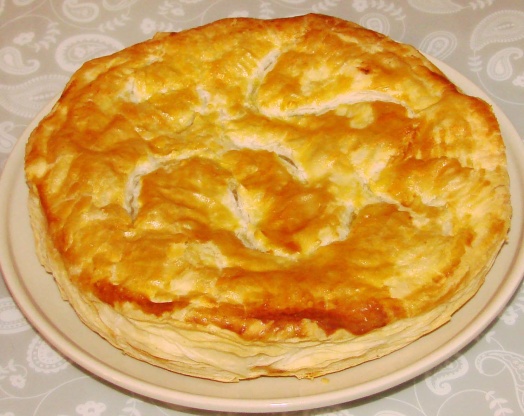 This is French and Western Swiss recipe served on Epiphany (January 6th) and is traditionally topped with a gold crown. The one who finds the hidden charm (or bean) in their slice gets to wear the crown!. The twelfth Night cake was born from a disagreement which matched bakers against pastry cooks in the 15th century. Each of them wanted to obtain the monopoly of the manufacture of the symbolic cake. Pastry-cooks are won. But Ce furent les pâtissiers qui l'emportèrent auprès du roi François 1er. But bakers could do something. Bakers played on the words : they invented the twelfth Night cake, which they offered to their customers the Epiphany's day. Each twelfth Night cake hides a charm. Who find the charm in his portion should offer the same twelfth Night cake (which he must pay) to other present persons. (History from http://www.prime.fr/en/history-epiphany-charms.php)
I'm so thrilled that I can do it myself. So much money saved cause in bakery it's so expensive. It was my first time trying puff pastry and it's so easy. I also made the filling in the microwave. I used less sugar, maybe 80 g. We all liked the taste but DH found it tasted a little bit too much lemon. Next time I'll use just a little bit of lemon zest or maybe omit it completely. I know next year I'm going to bring it to my MIL to keep on the tradition we had when my FIL was with us. Thanks awalde :) Made for PRMR tag game
On a lightly floured surface, roll out 1 block of puff pastry to form a 10-inch square. Using a sharp knife, cut out a 10-inch round, using a dinner plate as a guide.
Repeat this step with the second block of puff pastry.
To make the filling, combine milk, butter, sugar, vanilla and cornstarch. Add the three lightly beaten eggs and mix until well blended.
Cook in a pot at low heat stirring continually until it thickens or prepare this in the microwave stopping from time to time to stir it (I prefer to prepare this in the microwave).
Now take from the heat away, add grated lemon zest, rum and ground almonds.
Stir all together well.
To assemble, place the undecorated round of pastry on a cookie sheet lined with parchment paper.
Spread almond filling over the circle, leaving a 1-inch border. Using a pastry brush, glaze the border with lightly beaten egg.
Place a trinket or dried bean in the filling.
Place the second round of pastry over the filling, pressing the edges to seal.
Using a sharp paring knife, decorate one round with "s" cuts, like swirly spokes going from the centre to the edge of the round or make some cuts "v" shaped cuts with scissors.
Glaze the top with lightly beaten egg.
Chill in the refrigerator for 1 hour.
Preheat oven to 375°F.
Remove and bake for 30 minutes, or until the pastry has puffed up and is golden brown. Transfer to a wire rack to cool.
Decorate with the gold paper crown.
Note: if it is your first time observing this tradition, don't forget to warn everyone about the hidden charm or bean!