Nimz1466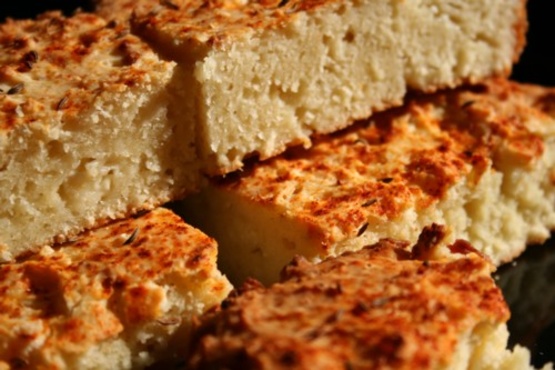 Adapted from Bulgarian Rhapsody By Linda Joyce Forristal. Edited to add.... After a suggestion from a reviewer, I have added 1 tbs of sugar and 1/2 tsp baking soda to the ingredients. I tried it with these additional ingredients and while still moist, it is not overly moist. Thanks so much for the feedback =0)

This was a different kind of bread for us. We baked longer than indicated and it was still a bit doughy. Maybe we will like better toasted. This was prepared for ZWT4 Eastern European Holiday challenge.
In medium bowl, mix together yogurt, eggs, oil, feta, salt, and sugar.
Sift together flour, baking powder, and baking soda. Slowly add the yogurt mixture and stir well.
Pour into a well-greased 9x9 inch baking dish.
Lightly sprinkle with paprika and caraway seeds.
Bake in a preheated 400 degree oven for 20 minutes or until a toothpick comes out clean.
Serve warm with butter.