The inspiration for this salad came from a deli at the Granville Island public market, but my version is even better if I do say so myself. Not to mention cheaper. All measurements are approximate.
Directions
Roast the yams in a little olive oil in a 375-400 oven until soft and a little brown on the outside, about 30 minutes (depending on how big the cubes are). Cool.
Mix remaining ingredients except for the pine nuts and cheese, and toss with the yams. Crumble in the cheese (if the cheese is too soft to crumble, use a fork to help it along; also crumbles better if frozen). Allow to sit in the fridge at least an hour to let the flavours develop (but will last several days in the fridge). Add pine nuts just before serving to keep them crunchy.
Most Helpful
Awesome! Great texture! Goes nicely with Pork chops!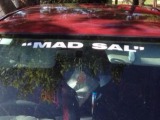 Just enjoyed this amazing salad at our friend's home. Yams were replaced by butternut squash and it was delicious. Can't wait to try it again. Might try it warm next :). Yum-yum!
As it happens; I looked for a recipe for yam salad because I had been to Granville Island and bought some for a picnic. I was sure it could be replicated and I thought I'd look for something to get me started. You're right, this was better than the GI one. I didn't get to the feta and pine nuts part, though. I was going on a picnic and bringing them separately seemed like a lot of work and I didn't think it needed it.