An easy recipe that can be made ahead. It travels very well, and should be served at room temperature. It's healthy, too. What more can you ask for?
Directions
Combine all ingredients in a large bowl and let rest at room temperature for 30 minutes.
Can be refrigerated up to two days, but serve at room temperature.
Reviews
Most Helpful
Delicious - you know you are doing something good to your body eating this. Fresh, vibrant flavours and easy-peasy.

Yum! This tastes even better than it sounds (and I thought it sounded pretty darn good). The flavors are vibrant and fresh. I made 1/3 of the recipe and am currently eating about half of that for my lunch. Thank you! Made for the International Agents of Quest for Culinary Quest - Italy.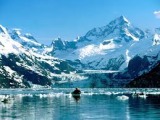 I love this stuff! Made it this morning, had it on a bed of lettuce for lunch-I used lime over lemon. Other than that I stayed true to the recipe! Made for CQ 2014.