Tuscan White Bean & Spinach Soup
veganmachine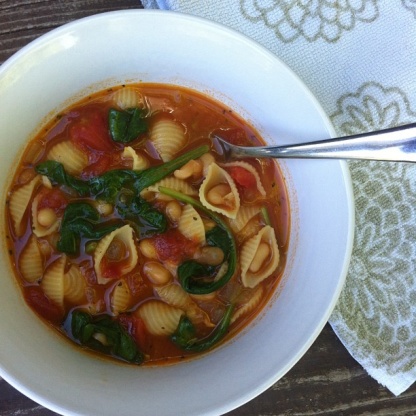 This dish was inspired by Vote_for_Pedro's White Bean & Spinach Soup. Like the original, this is quick, easy and full of flavor. It makes a nice dinner for 4 served with a good salad or it can be a starting course and serve more. Use 3 or 4 cups of broth according to how thick you like your soups or how much liquid your pasta absorbs.

This soup was awesome!!! My kids and I made it for lunch with my Dad.
We all loved it. We agreed there was way too much pasta, but we ended up putting more in than the recipe called for. We also added a bag of chicken strips, and decided next time to double the chicken and decrease the amount of pasta. We did not use the rosemary but added oregano instead. I thought the white beans totally made the dish myself. We also added in diced zucchini. Hey anytime you can sneak in some extra veggies, you gotta do it.
In a large sauce pan, sautee the shallots & garlic in the olive oil.
Add broth, tomatoes, beans and rosemary to pot. Season with black and red pepper. Bring to boil.
Add pasta and cook 12 minutes. If the soup seems too thick for your liking add a bit more broth.
Add spinach and cook until wilted.