Bev I Am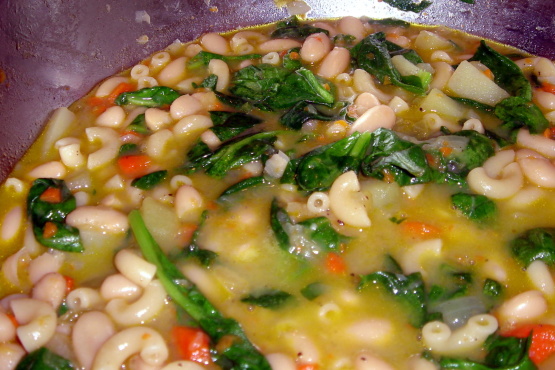 Delicious chicken broth soup made with cannellini beans, small pasta and escarole. This is super good!

I am SO sick of tomato based soups - so I was VERY excited to find this recipe! My changes were to omit the celery, use fat-free low-sodium broth, add 2 cloves of smashed garlic, and use 2C packed fresh spinach cut into strips. YUMMY YUMMY YUMMY!! Nice thick soup with lots to chew. EXCELLENT healthy & filling dinner w/a bagel & a clementine for dessert! I ate 1 serving last night & individually packaged & froze the remaining 7 servings for future grab'n'go meals. Thanks so much for sharing! PS - when I defrosted my 3rd frozen serving today, I added more water to it to make it soup-ier. I think next time I make this I'll add an extra 1/2C of water....
In a 4 quart saucepan, over medium high heat, cook olive oil, onion, carrot, celery and potato until lightly browned, about 5 minutes, stirring frequently.
Add chicken broth, pepper and water; increase heat to high and bring to a boil.
Reduce heat to low, cover and simmer for 10 minutes or until vegetables are tender.
Increase heat to high; stir in beans with their liquid and pasta and heat to a boil.
Reduce heat to low; cover and simmer for 15 minutes or until pasta is done, stirring occasionally.
Stir in escarole until heated through.