Hey Jude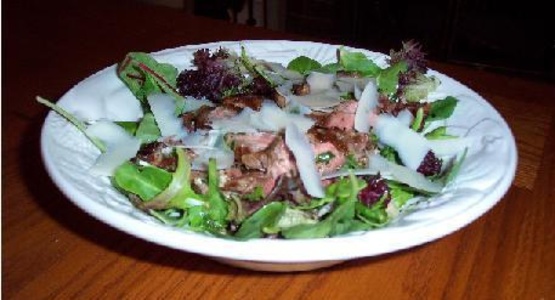 This is a really flavourful piece of meat! Served atop arugula, the juices wilt the greens and what you get is the most unbelievable warm salad. A winner.

Delicious! My daughters don't like steak so I did two steaks and two chicken breast halves. Also, I used mixed wild greens for the arugula, due to the unavailability of the latter. I also doubled the dressing. We liked this so much and my family has asked that I do this again. Thanks Ev, this is definitely a keeper!
Whisk together the 5 tblsps olive oil, lemon juice, garlic, parsley, oregano and a pinch each of salt and pepper in a small bowl until smooth.
Heat the 1 tsp olive oil in a large, cast-iron skillet over medium-high heat until smoking.
Meanwhile, season the steaks liberally with salt and pepper.
Lay the steaks in the pan and cook, without moving, until a well-browned crust forms, about 5 to 6 minutes.
Using tongs, flip the steaks.
Reduce the heat to medium.
Cook 3 to 4 minutes more for rare or 5 to 6 minutes for medium-rare.
Divide the arugula evenly among 4 individual plates.
Cut each steak crosswise into thin strips and arrange the steak over the arugula.
Drizzle any juices that have collected from the meat over the greens.
Rewhisk the dressing and drizzle it over the steak and greens.
Sprinkle with the Parmesan and serve immediately.