ImPat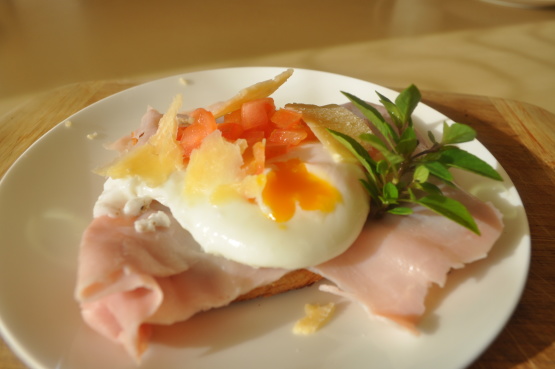 From www.eggsca. The original recipe calls for 2 tablespoons bruschetta mixture, drained, but the computer wouldn't accept that.

Top Review by ImPat
What a great breakfast this made with the different flavours and textures, I used a free range egg, thinly sliced double smoked ham, aged parmesan and vine ripened tomatoe and put all on a slice of toasted wholemeal/wholegrain bread, I made one for the DM and one for myself and we both thoroughly enjoyed. Thank you hungrykitten from the DM and I, made for ZAAR Chefs Alphabet Soup Tag Game.
Bring 3 inches of water to boil in medium saucepan. Reduce to gentle simmer.
Break egg into small dish. Gently slip egg into water. Cook to desired doneness in barely simmering water for 3 to 5 minutes. Remove with slotted spoon and drain on paper towel.
Toast bread; place on serving plate. Place slice of prosciutto on bread. Placed poached egg on prosciutto. Top with bruschetta mixture and cheese.